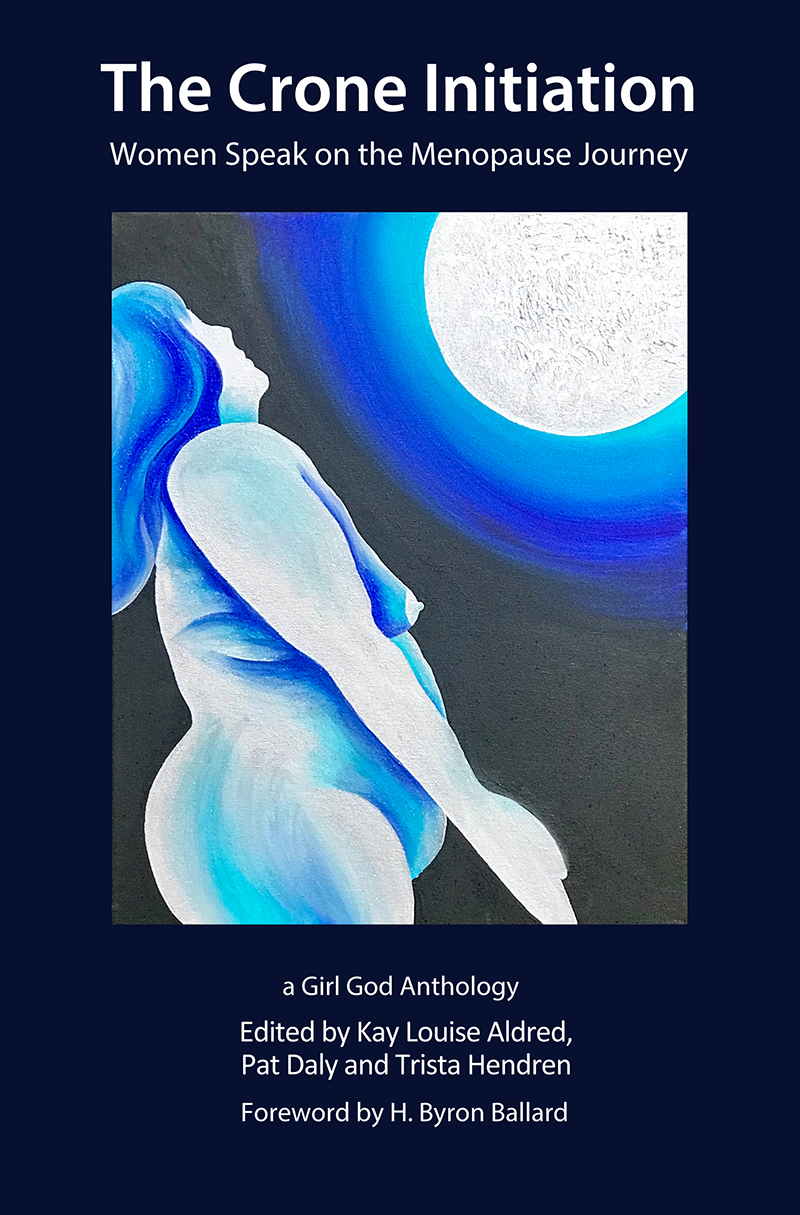 Crone is calling – can you hear Her? Crone is insisting on visibility – can you see Her? Crone is offering each and every single one of us an invitation to the individual and collective initiation of Wisdom Keeper, Visionary and Mentor – can you feel Her?

Crone Goddess is insisting that every woman give sound to her voice, embody her power and play their part in extricating her from the patriarchal shadow and bind.

The Crone Initiation  is an anthology of women's experiences of perimenopause and menopause, and the part Goddess plays in this journey. Crone's presence in the breakdowns and breakthroughs, the disintegration and rebuilding, is expressed through words and art. Meaning is reclaimed and the power of the Elder restored.

With contributions from:

Andrea Redmond, Angie Litvinoff, Annie Finch, Arlene Bailey, Arna Baartz, Barbara O'Meara, H. Byron Ballard, Caroline Selles, Catherine Hale, Claire Dorey, Dale Allen, Deborah A. Meyerriecks, Dee Mulrooney, Dr. Denise Renye, Elizabeth Woolfenden, Ger Moane, Hayley Arrington, Janet Guastavino, Jude Lally, Judith Murphy, Kaia Tingley, Karen Storminger, Kat Shaw, Katrina Stadler, Kay Louise Aldred, Laura Valenti, Lauren Raine, Leonor Murciano-Luna, Ph.D., Liliana Kleiner Ph.D.,  Dr Lynne Sedgmore, Mary Lane, Mary Saracino, Molly Remer, Nikki Wardwell Sleath, Nuit Moore, Rhonda Melanson, Sarah Miller, Sharon Smith, Stella Webb, Dr. Stephanie Mines, Sue Lobo, Suzanne Taylor- Torres, and Trista Hendren.     

Praise for The Crone Initiation

"The many voices sharing from their different experiences of the menopause journey together become a much-needed tapestry of wisdom where we again are reminded that there is not any one right way. This allows me as the reader to find my very own thread in the cyclic dance that is the Great Goddess, and recognize the value and sacredness of my own initiation journey. I am grateful that this book exists in the world!" 

-Chameli Gad Ardagh, Founder AwakeningWomen.com

"It is time for all of us women to embrace our inner Crone of wisdom and strength as our cycles end. This Anthology is surely the compass to guide us in doing so!" 

-Mare Cromwell, Author of The Great Mother Bible
"Menopause is a time of great change in a woman's life. It can plunge you into the depths of experience -- physically, emotionally, mentally and spiritually. Without a guide, mentor or sisterhood, it can be a rough, isolating and confusing journey. 
The Crone Initiation
 brings to light real-life stories from a cross-section of women, ages 40s-70s, who have navigated this passage. Through story, poetry and art, these women provide mentorship, comfort and guidance for this sacred initiation. Through inner wisdom and lived experience, these women bring back the honor and reverence for this return to our most essential self, sovereign and powerful. You will leave this book feeling renewed and with a new perspective and reverence for yourself and this next chapter of your life."
-Tabby Biddle, Bestselling Author of Find Your Voice: A Woman's Call to Action

"Shrouded in invisibility no more, the Crone's voice is heard loud and clear here: brave, outraged, truthful, fierce. Calling from the depths or from the rooftops, this choir of unique voices sings but one powerful song, that of the Wise One who will be silent no more. A trailblazing song for our present and future crones."

-DeAnna L'am, Author of Becoming Peers - Mentoring Girls Into womanhood and A Diva's Guide To Getting Your Period

"A feast of women's wisdom that brings into sharp and gentle focus the way we encounter crone energy in our lives and bodies. Informative, emotional, creative and enticing - this book offers a tender and fierce portal into the primordial nature of the crone."

-Carly Mountain, Author of Descent & Rising: Women's Stories & the Embodiment of the Inanna Myth
Order