Somatic Shamanism
"We are the Tree of Life. Our path is not up and out but in and through."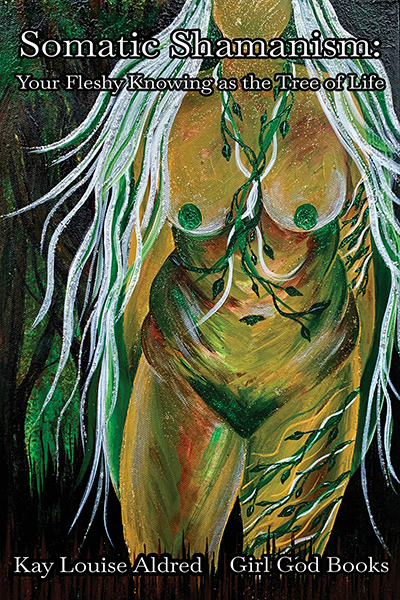 Somatic Shamanism is a practice undertaken in a grounded, non-bypassing, and safe way. Shamanism is the life path of one who knows. The Tree of Life is the entryway of connection and travel whilst journeying. In the case of Somatic Shamanism the entry point is the body. Somatic means of the flesh and so this shamanic process cultivates your own 'fleshy knowing'.
Shamanism is the oldest spiritual practice known to humankind. Every culture had its own shamans - medicine women and men - and so we are all able to access our own shamanic lineage - our fleshy knowing and innate ancestral wisdom. Somatic Shamanism connects you to your body and invites you to experience it as a portal to the intelligence of your forebears. Your blood, your organs and your bones - all aspects of your embodiment - contain insight and perception.
This workbook offers you an overview of shamanism and the concept of the Tree of Life. It contains a structure and a set of exercises that take you in and through the body to activate and engage your shamanic self and knowing.

"Embark on a powerful journey of self-discovery – or indeed rediscovery – between your body "your fleshy knowing", your relationship with the natural world, and your ancestral heritage as you become the Tree of Life! Through beautiful rituals and practices illustrated with inspiring artwork alongside wonderful insights, Kay Louise Aldred gently guides you every step of the way on your path to exploring Somatic Shamanism. Her wealth of knowledge, vibrant personality, and unique spiritual vision shine throughout – and allow you to easily explore your oneness with the earth and to re-energise or re-awaken this deep interconnectedness. This powerful offering published by Girl God Books is a must-read for anyone who wishes to tap into their inner shamanic relationship between body and spirit."
-Barbara O'Meara, Visual Artist, Writer and Celtic Shamanic Practitioner
"Where our minds are vexed by modernity, with even our wilder hopes limited by reason and logic, our creaturely bodies house and animate our strangest imaginations. We live all possibilities out loud through our bodies. We speak through our skin. We wield the intelligence of the flesh, our "fleshy knowings" as Kay Louise Aldred describes them. Move through this workbook like a prayer; it's a beautiful and timely achievement."
-Danielle Dulsky, Founder of The Hag School, Author of The Holy Wild: A Heathen Bible for the Untamed Woman and Bones & Honey: A Heathen Prayer Book
Check out the Online Course here.
Order