New Love: a reprogramming toolbox for undoing the knots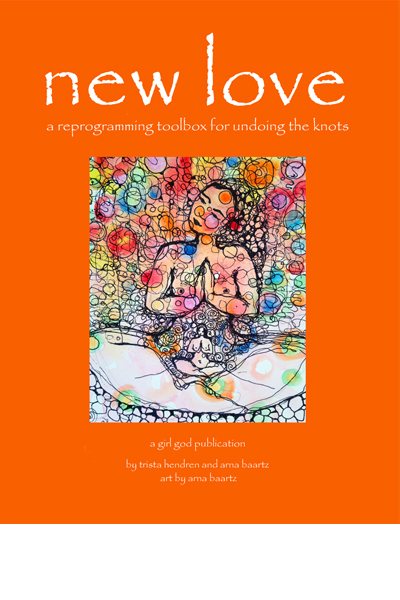 New Love is a powerful combination of emotional and spiritual techniques for women who wish to move away from patriarchal thought. This reprogramming workbook combines the wisdom of intentional visual art and inspiring words. New Love includes a mixture of compelling thoughts and suggestions for each day, along with a "toolbox" to help transform the parts of your life you want to heal. 

New Love is perfect for women who feel a little stuck, uncertain, or in need of focus and support. This book will work effectively as an individual handbook or can be used in supported women's circles.

Praise for New Love
"The title of this powerful book says it all. It truly is a TOOLBOX for undoing all the knots living inside us all from this long era of patriarchy. I am planning to offer this as a guide for a sacred women's circle. New Love could easily be adapted to last more than 30 days, as each day offers so much richness to contemplate and incorporate. Grateful for this divine collaboration between these two powerhouse women! New Love will indeed awaken a new love in women the world over."
–Melia Keeton-Digby, author of Heroines Club
"If you have an intention to embrace abundance and release yourself from self-limiting narratives, New Love is the perfect guide. Here's to a new love that will transform not just women, but the very ground on which we walk." –Elizabeth Hall Magill, author of Defining Sexism in the U.S.
"New Love is beautifully written and illustrated with artwork that blend in so nicely with the words. The quotes are reminders of our strengths, growth and wisdom, something we often forget as life and society challenges us. New Love allows the platform to free our mind and tune into ourselves."
–Alyscia Cunningham, author of Feminine Transitions.