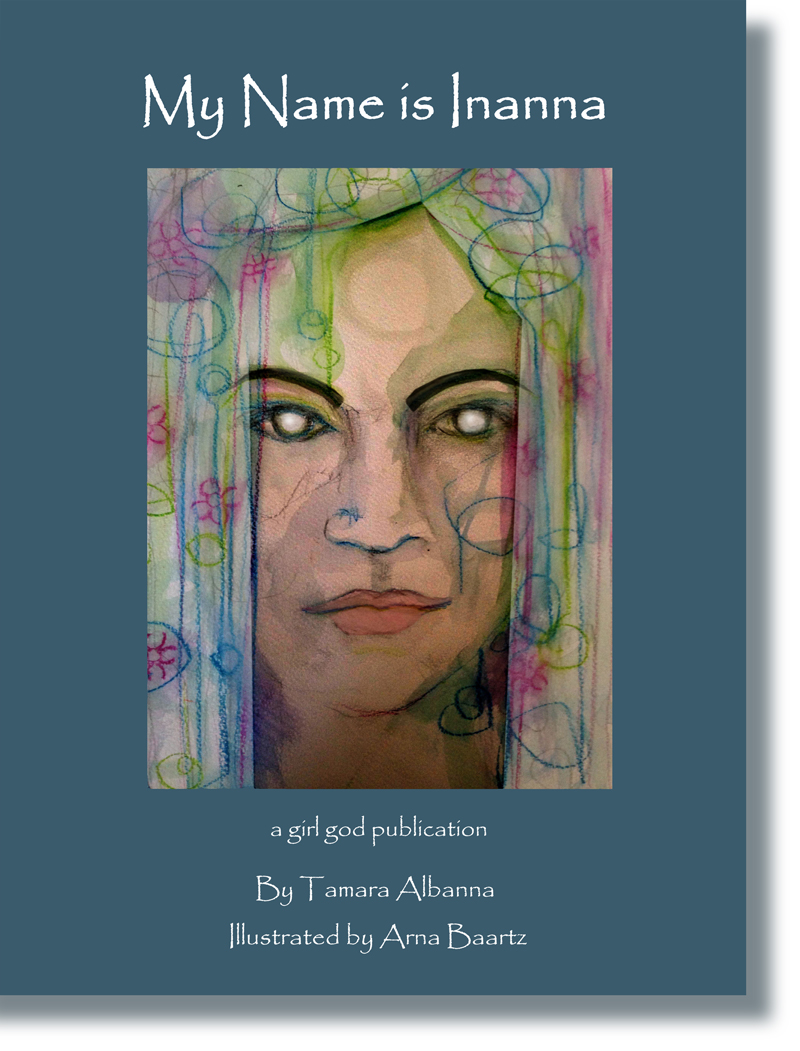 Tamara Albanna weaves the tale of Inanna's despair, strength and triumph—giving children of all ages hope that the dark times in life will pass. Arna Baartz illustrates this journey with gorgeous illustrations of the owls, lions, stars, sun and moon that direct Her. 'My Name is Inanna' is dedicated to Tamara's beloved homeland, Iraq—The Cradle of Civilization; the Land of the Goddess. 
"Full of meaning and insight, with stunning illustrations, this simple, poetic version of the ancient myth glimmers like the "inner star" the author describes, showing where to turn for guidance." -Marilyn McFarlane, author of 'Sacred Myths: Stories of World Religions' and 'Sacred Stories: Wisdom from World Religions'
"Tamara Albanna brings the feminine divine to life through the musings of Inanna, Queen of Heaven. Predating all of the world's major religions, this matriarchal tale honors feminine intuition and the darkness from which is often springs. Arna Baartz's blithesome illustrations paint a much-needed alternative to a patriarchal view of God in this book which is full of simple, nature-based touchstones—the moon, owls and each person's own inner star—that girls can use to forge a spiritual connection that is uniquely their own." -Monette Chilson, author of Sophia Rising

"The Girl God does it again with this inspiring, lyrical read! In My Name is Inanna, Tamara Albanna and Arna Baartz team up to bring the goddess of love to life for even the youngest readers. As human children, we will all face times of struggle and darkness in our lives. The powerful story of Innana, as told in these pages, reminds us that we too can trust ourselves and let our own inner star of intuition guide our way. An important message for us all!" - Melia Keeton-Digby, author of The Heroines Club: A Mother-Daughter Empowerment Circle

"In My Name is Inanna, Tamara Albanna provides a guiding star for girls and young women: their own divine power. The story is beautifully and simply presented in the voice of the Sumerian Goddess Inanna, who is deeply aware of her own power, and of the need for its guidance through difficult times. Inanna is indeed a powerful Goddess, wise and strong, who knows about the sun and moon and love. She knows too that the best guidance we have—the only thing that navigates us through darkness—is our divine inner power. This is such a deeply necessary message for girls and women to hear, and so healing—that we need not look outside ourselves for strength and wisdom. The powerful message of this book is perfectly complemented by Arna Baartz's radiant artwork. On these pages, girls dance, owls spread their wings, lions sit calmly in their strength, and women embrace themselves, in darkness and light. I highly recommend My Name is Innana—buy it for yourself, for your daughter or niece or cousin, for any and all of the girls and women in your life. Its message is one we must return to again and again: our power is within, and it is both healing and mighty."
-Elizabeth Hall Magill, author of Defining Sexism in the U.S.

Written by Tamara Albanna
Illustrated by Arna Baartz
U.S/Europe Only
Outside U.S./Europe