Creative Warrior Online Course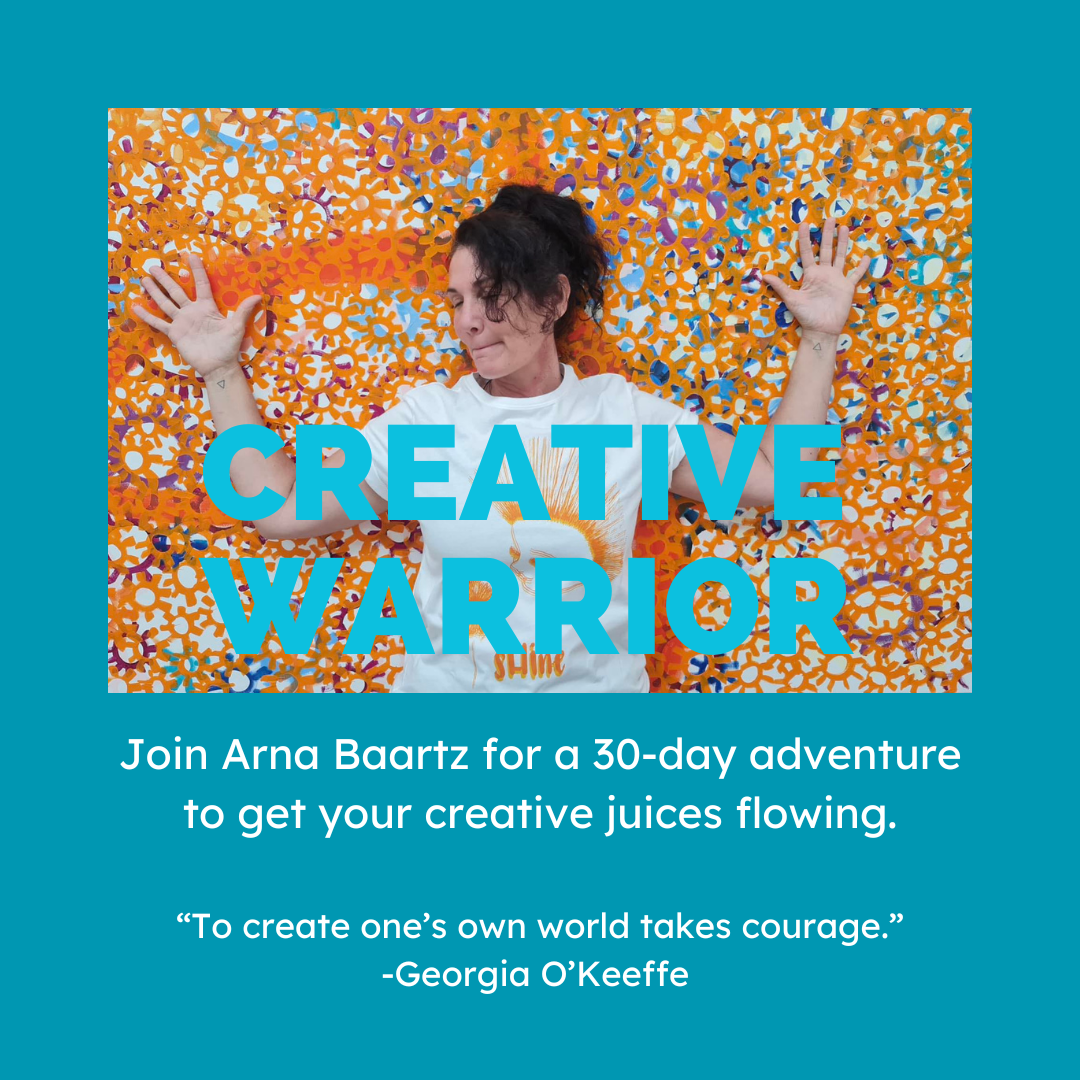 Awaken your creative inner child with our 30-Day Creative Warrior Course!

Meet your Guide:
| | |
| --- | --- |
| | Arna Baartz is an artist, writer, educator and poet. Her arts practice ranges in extremes from the creation of small and playful to large and serious. Most of Arna's work is an extension of her philosophical nature, bringing her gifts of personal insight and joy. Arna has won and been selected for many art awards including those of prestige and has had both art and words published extensively around the globe. Her first and favourite claim to fame however, was being held upside down and used as a paintbrush by Australian Artist, John Olsen. This fun was had at a workshop in St. John's Cathedral, Brisbane, 1973. Her writing and poetry has also been published throughout the world in a plethora of books, magazines and online forums. |
Arna is delighted to have the opportunity to create in this lifetime. Her art, words and poetry are transcendental to a degree and offer the intention of unconditional love and hopefully a little dab of inspiration to anyone else on a similar journey. Arna's more recent publications include: My Abundant Universe, The Creative Warrior, The Animals Know it and The Sun is in my Mouth. You can find her work at arnabaartz.com.au
About the Offer:

Arna will join you daily in a private Facebook group via live videos, art and written prompts - and loads of love and encouragement. This course will re-connect you with your Creative Inner Child.

The course includes a PDF copy of the book - although you will likely want a hard copy of Arna's glorious artwork once you see it!

In the Spirit of Abundance, you can add a friend at a discount rate!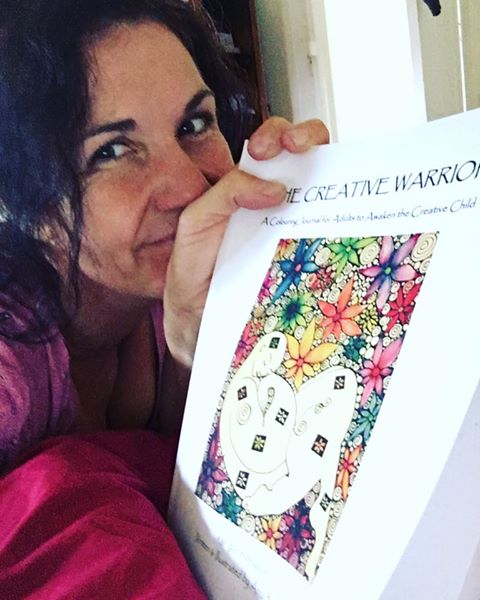 About the workbook:

The Creative Warrior is so much more than an ordinary colouring in book; it is a journey of personal empowerment. This book has been designed to awaken your inner creative being and gently connect you with your most satisfying and creative self.

The Creative Warrior blossoms with encouraging quotes, numerous colouring sheets of unique images, suggestions, activities and insightful thoughts.

You will benefit on many levels from exploring this colouring journal for awakening the creative child. When used daily, The Creative Warrior propels you mindfully into a very happy place!

Please note: Each of the images in The Creative Warrior have been especially created by the artist with the intention of delivering the essence of true love and triggering a healing response as you colour.
This book is dedicated to every child who has been made to feel their marks are not good enough.

Praise for The Creative Warrior
"I need no excuse to reach for the felt tip pens and now I get to colour in the work of one of my favourite artists while exploring + healing myself, my creativity + my inner child in this book, The Creative Warrior.

What Arna offers in these pages are a permission slip to play, to make mistakes and to celebrate your right to make a mark. Warning: once you let Arna and this book awaken your creative child, if you're anything like me, you'll find you will want to colour outside the lines on the page + in life too!" –Lisa Lister, author of Code Red + Love Your Lady Landscape
"What lovely invitations Arna's words and drawings are—beckoning us to shimmy out of our adult shells and dance freely with memory, colour, dreams and desires. This is a beautiful book from an inspiring woman who keeps faith with the magic of our creative purpose and understands its gift for keeping us passionately engaged and alive!" –Melaina Faranda, author of The Circle Series

"The Creative Warrior is an extraordinary combination of fiercely exuberant joy and gentle, compassionate affirmation. From the opening "Letter to your Inner Child", I felt my own creative soul nurtured and encouraged, and the desire to pass the affirmation on to every one I know. This is a healing, expansive work, that will surely touch everyone in a positive way, who engages with it. The quotations are unreservedly emancipating and the interactive tasks joy-filled and liberating.
People in every situation and of every age - from pre-schooler to pensioner - will be inspired and enhanced by this book. Prepare to unlock the doors of your creative cages and fly free!" –Ruth Calder Murphy, Author of Spirit Song and Wings of a Thousand Tigers

"Hand in hand with your inner child, The Creative Warrior invites you into the transformative world of play, joy and whimsy. Be ready to be delighted and empowered as you add color and embellishments to Arna Baartz's stunning, evocative images, and gently guided in your artistic self-discovery through inspirational quotes, creative inquiries and suggested activities. A magical adventure of reclaiming your own creative warrior awaits you!" –Karen Clark, author of Tale of the Lost Daughter

"The Creative Warrior is a grown woman's whimsical playground. To enjoy this magical eye-feast of a coloring journal, all you need are some colored pencils or paints, an open heart and a soft ear for your inner child."–
Dawn Gifford, author of Sustainability Starts at Home: How to Save Money While Saving the Planet
"Arna Baartz's online workshops offer outstanding, inviting opportunities for alchemical transformation. Her unique approach—grounded through her published workbooks—creates intimate containers for personal and collective healing and is transparent, co-creative, and highly intelligent. As a seasoned educator and facilitator myself, I give her my highest possible recommendation!" –April Heaslip, PhD

Register